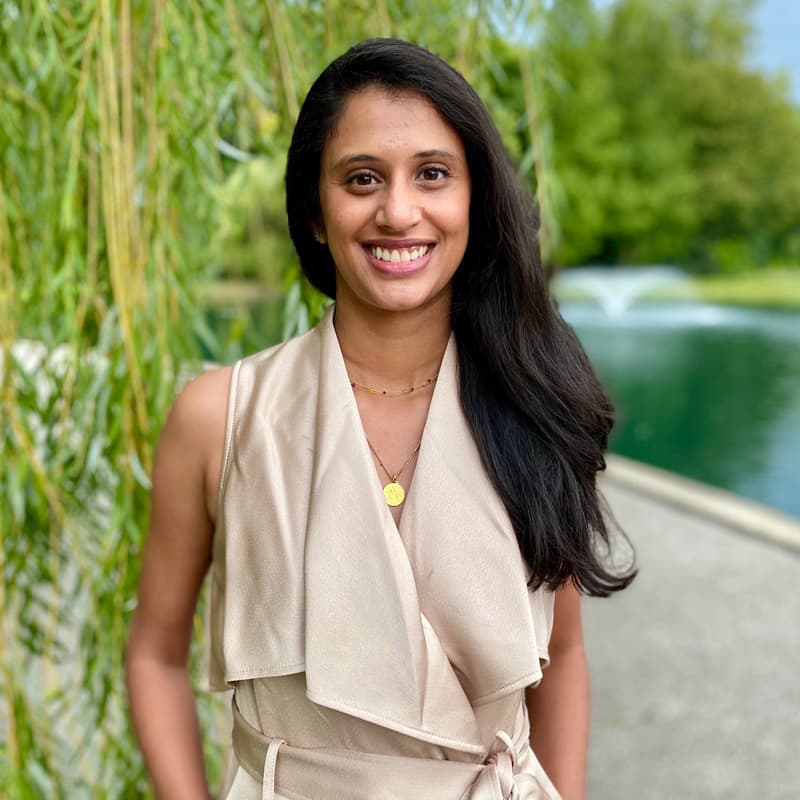 'Dentist – Your Smile's Architect' – the sign on the door of my orthodontist's office struck a chord with my curious mind as a child. As a 12 year old, I remember telling my orthodontist that I will, one day join his practice. As an adult I looked into what the profession actually meant. It encompassed everything I loved – art, science, leadership and the best of all, making relationships.
I attended The University of Illinois-Chicago, where I received my undergrad in Biology, with a minor in Chemistry. Shortly after, I completed a Master's in Biotechnology at Rush University, before returning to UIC College of Dentistry for my DMD degree. After graduation, I entered the private practice world and soon realized that learning about dentistry cannot end with the completion of my degree. I completed a mini residency in Implant Dentistry through American Academy of Implant Dentistry, which helped with a wide range of surgical procedures. I am also part of the Pankey Institute where we learned about how teeth come together (occlusion) and how muscles and joints need to be in harmony with each other to aid with daily functional habits. It was amazing how you can treat various head and neck aches with some minor manipulation in your bite – a process called equilibration. I was exposed to holistic dentistry for several years through my previous office. Achieving a SMART (Safe Mercury Amalgam Removal Technique) Certification through the IAOMT, helped further solidify my understanding of the role of dentistry in eliminating mercury toxicity.
I was born in Kerala, India, and spent most of my early years there, before relocating to the Chicago area. I was exposed to integrative medicine from a young age and preventive health was the focus of our lifestyle. I grew up with a jar of charcoal in our medicine cabinet that we used to brush our teeth when you need that extra brightness. The combination of turmeric and black pepper was part of every meal and home made herbal tea remedies followed any kind of bodily discomfort. My mother always had little nuggets of ancient wisdom on how to treat minor ailments from the common cold to minor scrapes. We would find the ingredients for them in our backyard garden. Even after moving to Chicago, our life revolved around nutrition, staying active, and getting a good night's sleep. This experience made me realize that if I can add some of these ancient practices to western medicine, it may fill in some of the gaps we have in our education and help our journey in health and wellness.
Wrigleyville dental and holistic dentistry allows me to get to know my patients and their lifestyles, to cater dental treatment that fits in with their whole health plan. As a holistic dentist my goal is to provide patient centric treatment; assessing oral health, nutrition, sleep and other functional habits, thereby providing your body with everything it needs to function at its optimal level.
My husband and I live in the city with our dog Bentley. I practice hot yoga and love anything outdoors. We keep up with our friends and family often, and travel whenever possible. I collect some rare tropical plants, and caring for them gave me a sense of regiment this past year. Sometimes after a long day and want to unwind, a cup of tea and a book before bed does the trick for me. Just like many of my patients I am also on a quest to achieve optimal health and continuously learn about holistic lifestyle and wellness.
Affilliations
International Academy of Oral Medicine and Toxicology (IAOMT)
Academy of General Dentistry (AGD)
American Academy of Implant Dentistry (AAID)
American Academy of Dental Sleep Medicine (AADSM)
Education
University of Illinois at Chicago | Major in Biology and Minor in Chemistry
Rush University | Master's in Biotechnology
University of Illinois at Chicago | Doctor of Dental Medicine (DMD)
American Academy of Implant Dentistry | Mini Residency Program
SMART Certified with the International Academy of Oral Medicine and Toxicology
Panky Institute Member